HIS

Modules
---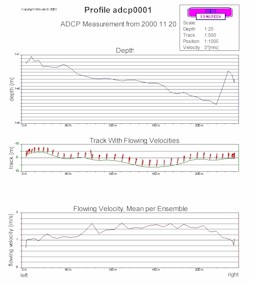 ADCP
HIS'3D® , the environmental data management system, offers easy-to-use mechanisms for evaluating ADCP measurements - data from acustically measured water velocities.
After selecting the format the raw data file (e.g. in the Transect format) is imported into the database per drag-and-drop.
HIS'3D® works with any profile with an arbitrary number of base points.
The mean of the data values under one position point (ensemble) is computed. By integrating over the profile area the water amount is computed by HIS'3D® .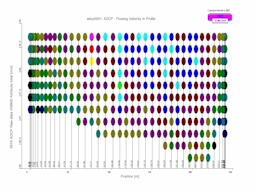 Available graphics:
depth of the profile
track plot with flowing velocity
mean of velocity
control plot with colour markers
All graphics are scalable and formatable (true to scale).
Isotachplots

Together with the isoline module HISoline of HIS'3D® isotach plots in the cross section of the river or along a base point path.
Presentations on Maps

The module HISarc of HIS'3D® offers the possibility to present flowing velocities from ADCP meaurements directly on maps (e.g. under ArcView).
SIMUTECH offers additional services:
input formats for other ADCP appliances
extension of evaluation methods
presenting the evaluations in the internet
graphical and numerical evaluation of ADCP data of the customer from arbitrary file formats
inclusion of ADCP data values into simulation models
---
Use the info-form to request further information.